Happy Wednesday! It's October and Halloween seems to be at the top of everyone's minds. Today, I've partnered with some awesome bloggers to bring you a whole lot of Halloween inspiration, specifically involving witches… ohhhhh!  I'll be honest, I get scared really easily so when it comes to anything Halloween related I generally take the fun and light hearted approach.
So are you ready to see my witch craft? Check out these Witch Hat Cupcakes, the perfect treat to take to a party!
How fun are these? They are relatively easy to make, they are just a little tedious. But I promise the kids will love them :)
Supplies: 
- Cookies
- Chocolate Chips
- Chocolate Cupcakes
- Buttercream Frosting (1/2 Cup Butter, 2 Tbsp Milk, 2-3 Cups Powdered Sugar)
- Red and Yellow Food Coloring


Start by melting the chocolate chips on medium/low in a saucepan. Once they are fully melted roll the sugar cones in the chocolate covering the entire suraface.
Next, roll the cones into the purple sugar sprinkles. I also found that sprinkling them on worked too.
They them on a piece of wax paper to harden. Mine were hard after 2 hours, but you could also place them in the freezer to speed up the process.
Now it's time to assemble the hats. Get out your cookies, cones and icing and we are good to go.
Line the bottom of the cone with the frosting and attach it to the flat side of the cookie.
Using a round frosting tip, decorate the edges.
If you wanted to, you could stop here and just have witch hat cookies, but I think they look pretty darn cute as cupcake toppers. So bake yourself a batch of chocolate cupcakes (choose your favorite recipe).
Then make a batch of buttercream frosting. I always use the basic recipe of 1/2 cup butter, 2 Tbsp milk, 2-3 cups of powdered sugar. Just slowly add in the sugar until it is the consistency that you desire. Lastly, add a few drops of red and yellow food coloring to create orange.
Frost your cupcakes and top them off with a little Witch Hat!
Looking for more Witch Hat ideas? Check out all of these fabulous projects (click each image to see the full post).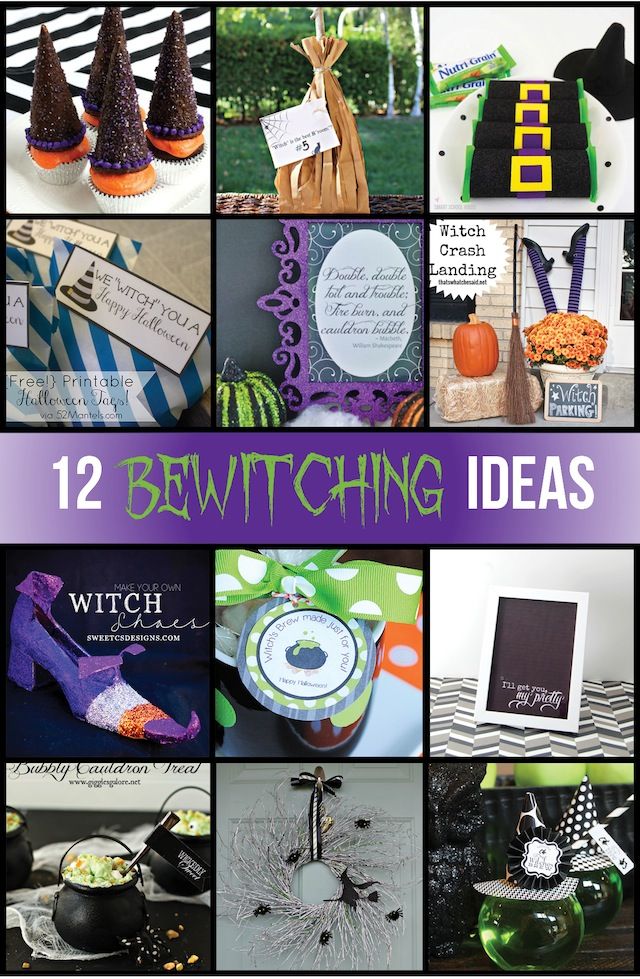 And the BEST part of all of this?? The folks at Martha Stewart wanted to get in on the fun Halloween action and share their most recent Halloween magazine, a pumpkin witch's caldron tutorial AND….an AWESOME giveaway of Martha Stewart Halloween crafts!
MARTHA STEWART PUMPKIN CAULDRON TUTORIAL
• large pumpkin
• keyhole saw or serrated knife
• fleshing tool
• drill
• sisal rope
• 3 eyebolts, with washers and nuts
• 3 long, straight branches
• 20-gauge wire
• S hook
• outdoor stake light (with yellow or orange bulb)
• twigs
• sturdy glass bowl
• dry ice and protective gloves
Cut top off pumpkin, using saw.
Hollow out pumpkin with ?eshing tool.
Drill 3 equidistant holes about 2 inches below opening.
Cut 3 lengths of rope to hang pumpkin.
Tie 1 end of each rope to an eyebolt.
Push eyebolts through holes in pumpkin; secure with washers and nuts.
Prop branches in a tepee shape, and secure at top with wire; thread wire inside top to hang S hook.
Hide visible wire with rope. Knot pumpkin's rope ends together, and hang from S hook.
For "?re": Insert stake light into the ground, and cover it with twigs. For "mist": Put glass bowl with dry ice inside pumpkin; add some water. (Wear gloves when handling dry ice.)
Sources:
Keyhole saw,from $5.50; natural sisal rope (65495), 3/8 inches by 50 feet, $9; eyebolt with nut, 1/4 by 4 inches, $0.50; cut washer, 1/4 inches, $2.50 for 25, homedepot.com. fleshing tool, $4.50, ceramicsupplyinc.com. Panacea 20-gauge paddle wire in Green, $3.50, createforless.com. Thomas and Betts stake light, $8, amazon.com. dry ice, dryicedirectory.com for locations.
THE BEST PART?! Now we're giving away some AWESOME BOO-TIFUL Martha Stewart Halloween goodies! Enter to win all the goodies in the image below simply by following these amazing blogs below via Pinterest. Enter in Rafflecopter to win!