What a great month it has been already! Have you been enjoying this series as much as me? If you've missed a post, you can view all of the crafty goodness here!
I'll admit, I was a little nervous hosting my first link party. I honestly thought I was going to be the only one who showed up. I had a flash back to middle school when you invite your friends over and no one shows. But all of YOU are amazing and I was so humbled by all of the links! Thank you for making my first party so much fun!
Not to mention there were some fabulous ideas linked up. I loved going through each of the links and exploring new blogs! You guys have some serious talent!
Here are my top 10 projects linked up to the party. Go visit these awesome blogs and make some new friends :)
Adorable photo idea from Jamie at The Letter 4! 
This mini pallet sign from Amy at All in a Day is AMAZING!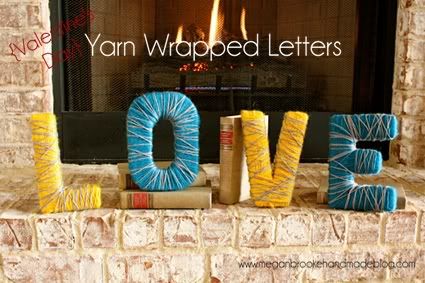 Yarn wrapped letters from Megan Brooke Handmade
Unique Valentine's Day banner from Chicken Scratch
DIY frame and artwork from NorthShore Days
D
She had me with the gray walls! Love this display from the..late, young family 
Lovely Valentine's display from Emerson Grey Designs
Great tutorial on how to make this woven heart from A Home Made
Cute as a button Valentine favors with chocolate buttons from Not Just A Mommy
Heart shaped chocolate cherry whoopee pies from Gallamore West
If you were featured feel free to grab a button from here!
Check out all of the other great inspiration going on at the party and if you don't want to miss out on the rest of the awesome guests be sure to follow DDD via RSS or Facebook!
Have a great weekend :)